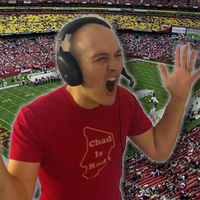 UTHdynasty.com Co-Owner
UTH Podcast Host
Footballguys.com Staff Writer
Chad got his start as a fantasy football writer years ago at Jim Day's GOAheadScore.com website. After refining his craft through dozens of articles, Chad started his own podcast, Under the Helmet, and found his way to the dynasty section of ProFootballFocus.com Fantasy. In addition to rankings and articles, Under the Helmet became the weekly dynasty show for the website with co-host Scott Spratt. Chad started with Footballguys.com writing weekly game recaps, progressing into a staff writer position where his feature articles and rankings can currently be found.
Chad prides himself on seeing as many dynasty trades and rosters as possible. Knowledge is power. In addition to railing against older running backs and overpaying for positions deemphasized by a league's format, Chad's excel database grows by the day. He prides himself on his detailed power rankings for each dynasty league in which he plays. While his unique approach to dynasty rankings and values drives his overall team-building philosophy. Projecting college prospects for fantasy is Chad's pet project where he has tracked all drafted skill position players dating back to 1999.
The podcast has been Chad's pride and joy over the years, gaining market share in the dynasty landscape along the way. After having just a handful of guests in the spring of 2013, Doug Veatch garnered a great response from the listeners and the pair had instant chemistry. After a few more appearances in the following months, Doug joined the show full-time and the rest is history. Since then the pair has taken bad dynasty practices to task on a weekly basis on the show (and twitter) with their long-term approach to the game that they love.